Who is managing money for the owners of world-famous brands like LEGO, Louis Vuitton, IKEA and SAP?
Two weeks ago, Trusted Insight published a list of the most secretive single-family offices, with a favored eye on American firms. This week, we are taking a special look at Europe, where the concept of family offices began in the sixth century, protecting the oldest money of capitalism through the test of time.
As the world economy evolves into a cohesive, interdependent market, family offices must modernize their investment strategies. Many are transitioning from traditional asset allocations to a higher degree of diversification in alternatives, namely in venture capital and increasingly through direct investment. These investments range from niche tech startups to some of the most well-known household brands.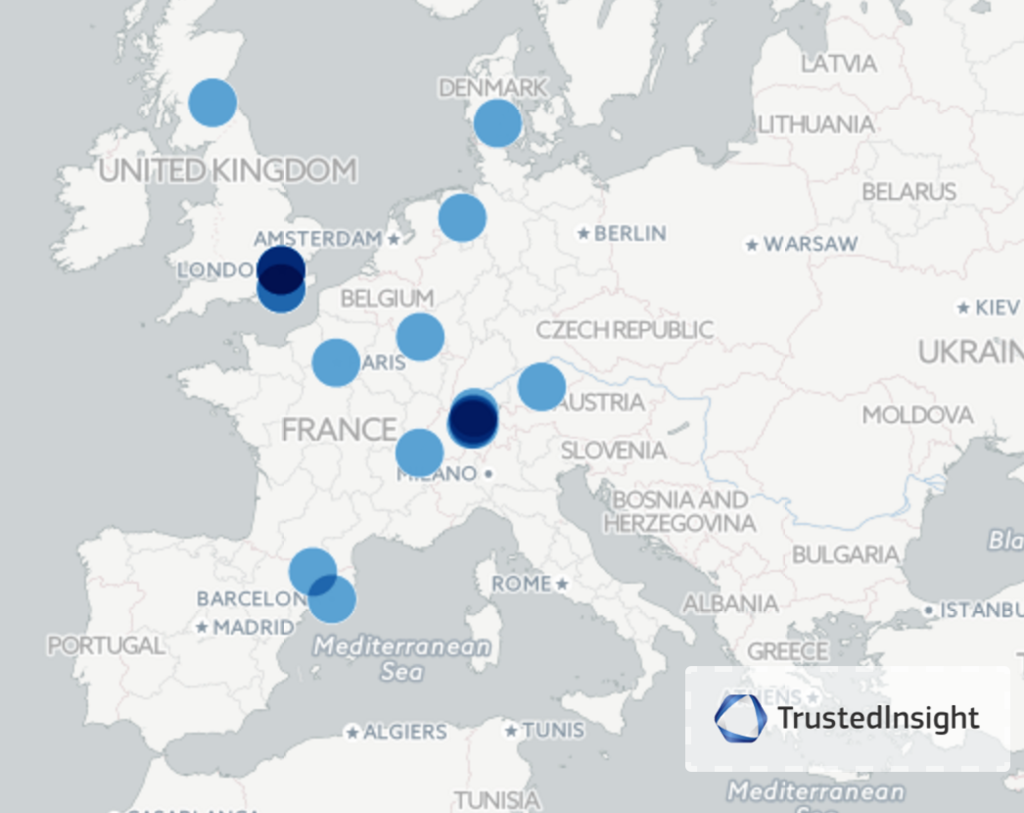 20. Armada Investment Group
Kusnacht, Switzerland
Family Represented: Daniel S. Aegerter
Investment Areas: Technology, Venture Capital
Notable Investments: TRADEX (Merged with Ariba in 2000 and later sold to SAP in 2012)

19. Groupe Arnault
Paris, France
Family Represented: Bernard Arnault
Investment Areas: Venture Capital (All Stages), Private Equity
Notable Investments: Christian Dior, LVMH

18. Kirkbi
Billund, Denmark
Family Represented: Kirk Kristiansen Family
Investment Areas: Entertainment, Renewable Energy, Real Estate, Private Equity
Notable Investments: LEGO Group, Merlin Entertainments

17. Aeris Capital AG
Pfäffikon, Switzerland
Family Represented: Klaus Tschira Family
Investment Areas: Venture Capital (Late Stage, Buyouts), Life Sciences
Notable Investments: SAP

16. Alta Advisers Limited
London, United Kingdom
Family Represented: Hans Rausing
Investment Areas: Venture Capital, Real Estate, Hedge Funds
Notable Investments: Tetra Pak (World's Largest Food Packaging Company)

15. Ikano Group
Luxembourg
Family Represented: Kamprad Family
Investment Areas: Retail, Insurance, Real Estate, Banking
Notable Investments: IKEA

14. Atlant Capital
London, United Kingdom
Family Represented: Alexander Leyviman
Investment Areas: Telecommunications, Energy, Technology, Radio and Aerospace, Banking, Retail, Mass-Media, Tourism and Healthcare Services

13. Capsicum Private Office
London, United Kingdom
Family Represented: Grahame Chilton
Investment Areas: Private Equity, Hedge Funds

12. Reig Capital
Andorra
Family Represented: Reig Moles Family
Investment Areas: Real Estate, Tobacco, Banking, Hotels, Private Equity (Fashion, Luxury and Publishing)

11. Singh Family Trusts
Zurich, Switzerland
Family Represented: Tom Singh
Investment Areas: Retail, Real Estate, Private Equity

10. Souter Investments
Edinburgh, Scotland
Family Represented: Brian Souter
Investment Areas: Transportation, Environment

09. Stockdale Street Limited
London, United Kingdom
Family Represented: Nicky Oppenheimer Family
Investment Areas: Diamonds, Mining
Notable Investments: Diamond Route

08. Acropolis Capital
London, United Kingdom
Family Represented: Chartouni Family
Investment Areas: Real Estate, Public Markets, Hedge Funds and Private Equity

07. Cofra Holding AG
Zug, Switzerland
Family Represented: Clemens and August Brenninkmeijer
Investment Areas: Retail, Real Estate, Private Equity

06. General Oriental Investments
Geneva, Switzerland
Family Represented: James Goldsmith
Investment Areas: Pharmaceuticals, Food

05. Gaydoul Group
Pfäffikon, Switzerland
Family Represented: The Gaydoul-Schweri family
Investment Areas: Luxury, Fashion
Notable Investments: Navyboot, Jet Set

04. Clemens Haindl Verwaltungs
Mnich, Germany
Family Represented: Clemens Haindl Family
Investment Areas: Paper Manufacturing
Notable Investments: Haindl Paper (Europe's Largest Paper Manufacturer)

03. Consensus Business Group
London, United Kingdom
Family Represented: Vincent Tchenguiz
Investment Areas: Real Estate

02. WEGA support GmbH
Garrel, Germany
Family Represented: The Wendeln and Kläne Family
Investment Areas: Stocks, Private Equity, Hedge Funds, Real Estate, Commodities

01. Spectrum Value Management Limited
Rapperswil-Jona, Switzerland
Family Represented: Thomas Schmidheiny family
Investment Areas: Construction, Cement, Winery